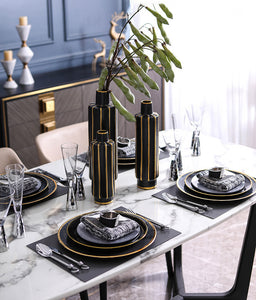 All colors evoke emotions, but black color has a special full-spectrum status when it comes to the feelings it reflects.
Power, elegance, sophistication, status, formality. Evil, death, grief, mourning, the occult. Mystery, bleakness, heaviness, depression, rebellion, fear. A color of many sentiments.
Why so many feelings associated with the color black? Maybe it's because black goes with everything and brings out the best—or worst—in whatever it surrounds.
-
#tablesetting
#tableware
#tabledesign
#tablescape
#tabledecor
#tabledecoration
#dressingtable
#mesadecor
#artdetable
#arounthetable
#setthetable
#tableart
#misenplace
#mesaposa
#centerpiece
#tablearrangements
#table
#tabletop
#decorable
.eu 
#decor
#tischdekoration
#tischdeko
#tavoli
#tavolidesign
#decorazioni
#luxurytravel
#visitsouthtyrol
#villageapart
#vacanzeinmontagna
#südtirolerleben